Totally made in the USA
Soothing Deep Tones "Visual Bliss"
The Most Unique Concept in Wind Chimes since the Wind Began to Blow!
OK, They are Really Cool!
Giant Size - Giant Sound (not loud, just DEEP)
Half the Price of Large Commercial Chimes! Compare Prices / Woodstock 74" for $225.00 / Woodstock King David 88" $479.00 / Ours are same or Larger - from $100 - $150.
AND, nobody else will have one like yours because these are all Unique Works of Art
There is no other gift you could give someone that will be a constant reminder of the Kind Spirit intended with your gift. Truly a Gift from the Heart
Kokepeli Wind Catcher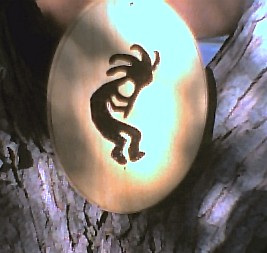 These beautiful chimes are each a unique work of Art (not manufactured). Each one of these giant, oversized chimes has a gentle "Gong" that is soothing to your soul and eye (no Tinker Bell stuff here). Specially made from tuned from Steel Tubing and designed to fit your indoor or outdoor setting. Everyone will ask where you got these. Can be customized to meet your desires.
Tubing for EyeDiehl Chimes are a beautiful, black, acrylic base with a Granite Texture (Black or Green Granite), finished with layer after layer of Hi Gloss Spar Urethane coating to outlast any weather Mother Nature can dish out. The Beaver Creek Chime is around 95" in total length with three 2-3/8" Steel Tubes (Awesome Resonance). Wood tops come from natural envronments, hand harvested from "Fallen Trees", specially selected for a distinguished cosmetic character. The tops become the unique signature of each piece, taking on a character of their own.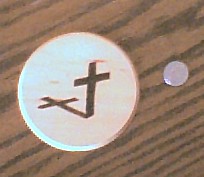 See Photo Gallery for more examples!
Love Wind Catcher (negative)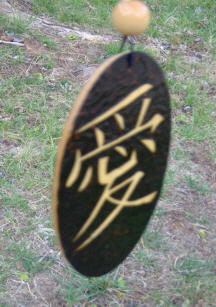 Chimes are awesome all year long.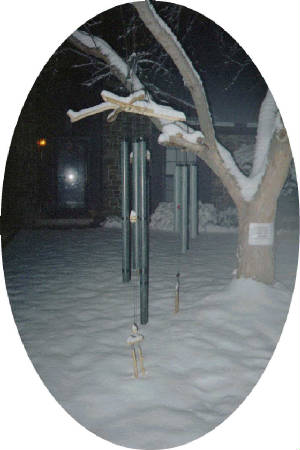 Feng Shui